If you're interested in signing up for Hungry Harvest, here is my affiliate link which will get you $5 off your first order 🙂
---
1 bunch of green leaf lettuce (subbed out the spaghetti squash)
2 Asian Pears
4 Pomegranates
2 Portobello Mushroom Caps
2 Baby Bok Choy
4-5 Small Yellow Onions
3 Sweet Potatoes
2 Yellow Squash
My Extras that I ordered: 2 bulbs of garlic and 4 Honeycrisp Apples
Hungry Harvest had a special this week where you could customize your box for free. Since I had just had spaghetti squash (and wasn't sure what to do with it), I subbed it for lettuce for my salads. I also ended up using up pretty much everything in the first week – exception being the 2 poms I have left over. Not sure what to do with them but will probably just put them on a salad or something next week.
Apple Pomegrante Salad with Honey Balsamic Dressing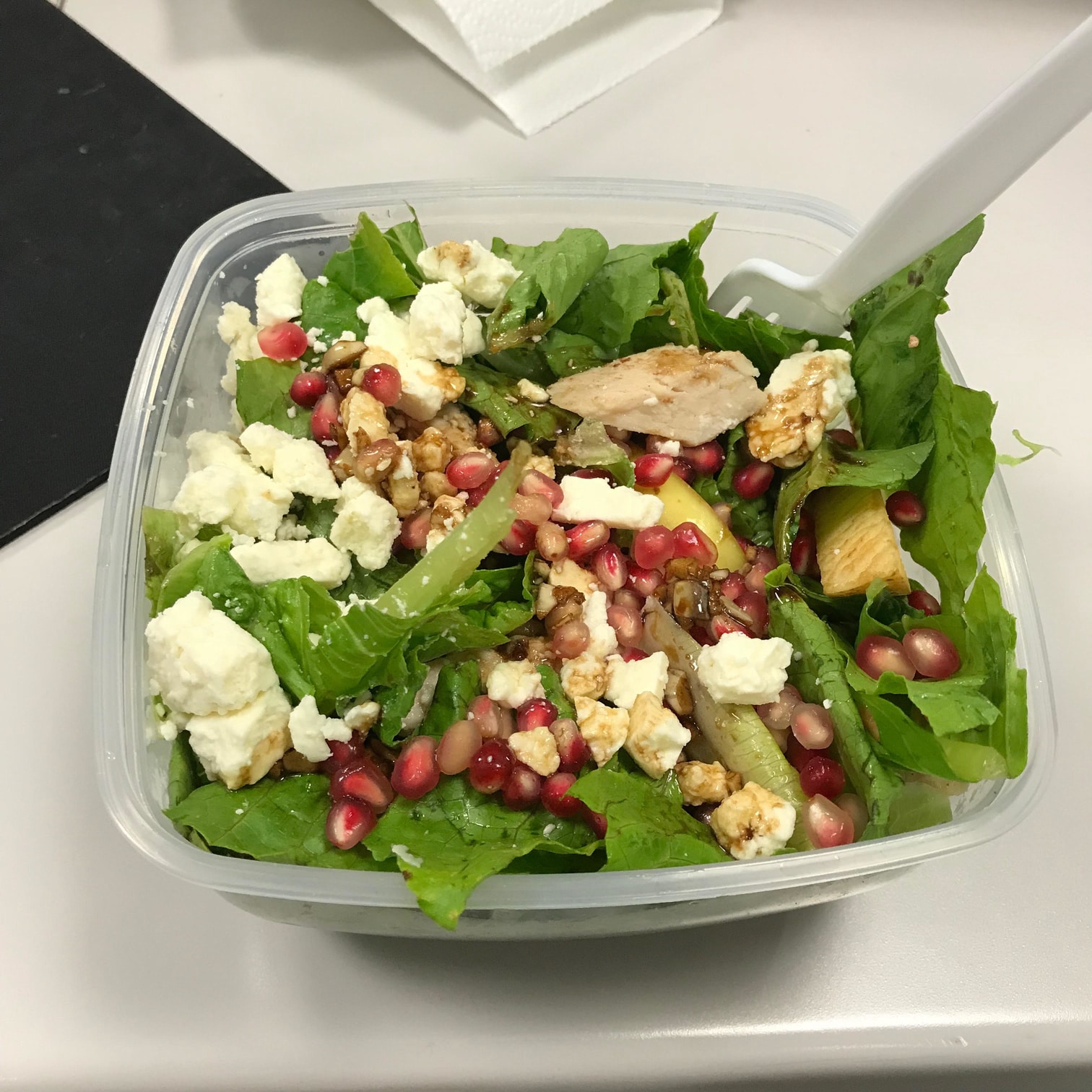 Used: Lettuce, Pomegranate, Apples, Garlic
I have never dealt with pomegranate before, let alone even knew what it was! I was a bit concerned about how I was going to open it and get the seeds out, but it was actually pretty simple. Tutorial here! The pom seeds varied between very tart to very sweet. They were definitely interesting…I tend not to like tart things so I don't know if I would have chosen this on my own, but I'm glad I tried something different! That's one of the reason I get this box after all. The salad ended up being pretty good, and I added chicken to make it more filling. I'll use up the remainder of the pomegranates for this salad next week!
Roasted Bok Choy
Used: Bok Choy, Garlic
I've had bok choy in the past I think…my mom has made it before. I ended up making some sesame chicken (recipe here) with rice and having the bok choy as a side. I can't say we cared for it that much. The seasoning on it was definitely good, but it was just a weird texture and I wasn't quite sure how to eat it.
Roasted Yellow Squash + Roasted Sweet Potatoes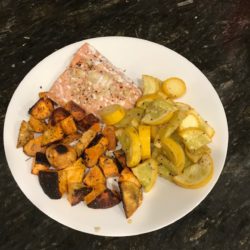 Used: Yellow Squash, Sweet Potatoes
These are technically 2 recipes, but the only one I really followed any sort of recipe was for the squash (and that can barely be considered one). So basically…very simple stuff! For the potatoes, I just roasted them (450 for 30 min) with some italian seasonings, salt, and pepper. I served both with salmon. Both were delicious!
Mushroom Tacos
Used: Portobello Mushrooms, Onions
This was kind of a crack up. I had nothing to make for myself and Steve was at a work function for the evening, but I knew I wanted to use these mushrooms in something. We had some taco materials leftover from our taco dinner on Sunday (shells, cheese, and salsa) so I figured why not create some veggie tacos? I googled mushroom tacos and apparently its a thing! I basically just chopped up the mushrooms, threw in some onions and bell pepper, and seasoned with homemade taco seasoning, topped with cheese and salsa in a taco shell and boom! dinner. It was yummy too!