If you're interested in signing up for Hungry Harvest, here is my affiliate link which will get you $5 off your first order 🙂
---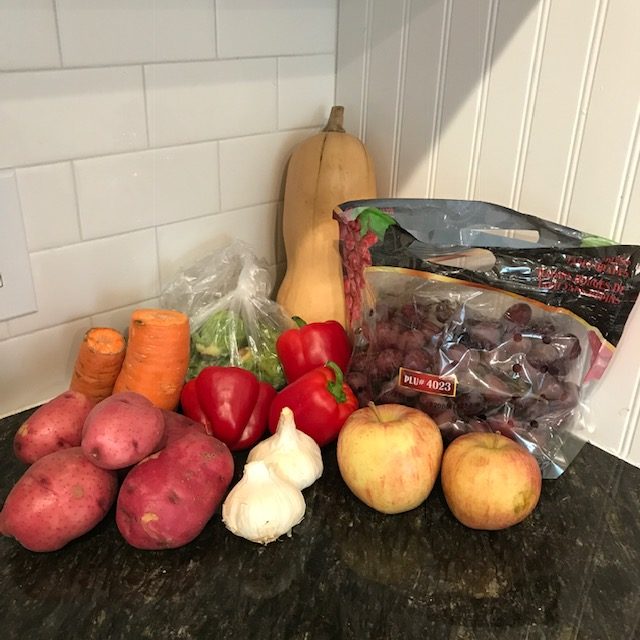 Apples (2)
Grapes
Brussels Sprouts
Red Potatoes
Red Bell Pepper
Carrots

Butternut Squash
Extras that I ordered: 2 bulbs of garlic
Not many recipes this week…mainly because I used the majority of the items as side dishes. The grapes I ate as a snack (though there were way too many and I ended up throwing most away cause I couldn't finish them in time before they developed mold). The red bell peppers I used in a couple stir fry dishes.
Butternut Squash Mac N' Cheese
Used: Butternut Squash
I was a little bummed about receiving a butternut squash because I literally just made butternut squash soup for Thanksgiving (the same recipe I make every year…its super delicious. Here it is if you want to give it a try!). So I wasn't quite sure what to do, but stumbled upon this mac n' cheese recipe. It turned out delicious! I added some sausage I had to it to make it more filling. Since the squash was pretty massive, I only used about half of it. I also had a lot of extra sauce which I've frozen to have with pasta another day.
Roasted Potatoes, Carrots, Squash, and Brussel Sprouts
Used: Carrots, Potatoes, Squash, Brussel Sprouts
So these aren't really recipes…they're just roasted veggies over the course of a couple nights of dinners (both served with salmon). For the carrot/squash/potato side, I actually drizzled a little honey over it while roasting. Was delicious! For the second meal with the remainder of the potatoes and Brussels sprouts, I sprinkled some Parmesan cheese on top. I will never tire of roasted veggies 🙂