L'Oreal Colour Riche Balm
I've really been wanting to try the Revlon lip butters, but I saw this new product in CVS the other day and decided to give it a try first. This product is the same idea as Revlon's…a balm that is supposed to give you moisture, color, and gloss all in one. The color selection isn't very big, but I loved the color I ended up getting, which is "#218 Rose Elixir".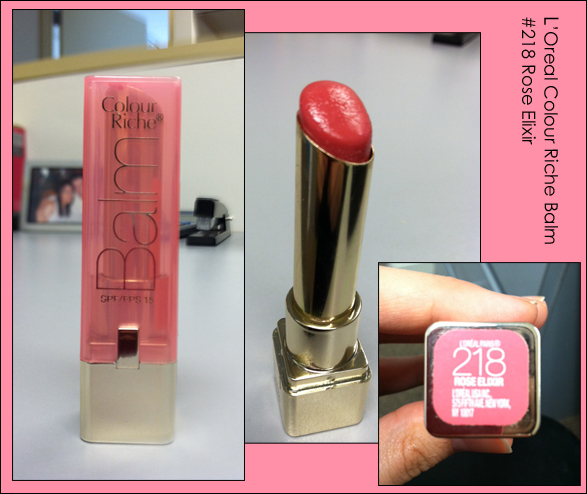 (sorry about the photos by the way, my Iphone wasn't focusing for some reason)
First off, the packaging is adorable! I much prefer it to the Revlon packaging. Its very sleek and looks more like a high-end product. I absolutely love the color…it reminds me of the Fresh Rose lip treatment. Its very much a "your lips but better color". The color (at least with this particular shade) is not super pigmented (no where near that red shade that is pictured). I'd say its more like a tinted lip balm. Its very moisturizing when you first put it on and it goes on very smoothly, but after that is when I started having issues with it.
It fades away SO quickly. I'll literally put it on and 10 minutes later I'll have to reapply it. Now, I know you can't expect what is essentially a tinted lip balm to be long wearing, but I feel like it should last much longer than it does. Overall, I'm torn on this balm because I really love the color and it gives me everything I want in a tinted lip product, but I wish that it didn't fade so quickly. I can't say if I will repurchase it again…it depends on whether I like the Revlon lip butters more or less than this product.
Have you tried the L'Oreal Colour Riche Balm? Did you find that it faded away quickly as well?