Maybelline Baby Lips SPF 20 Moisturizing Balm
I haven't done a
BzzAgent
review in so long! I was so excited when I was invited to the
Maybelline Baby Lips
and Lots of Lashes Mascara campaign. I was actually planning on picking up a Babylips balm on the day I got the email invite, so that was great timing. Here is what I thought about the balms that I received. I will be reviewing the mascara
in a future entry
.
The balms that I received were "Cherry Me", "Quenched", "Pink Punch", "Peach Kiss", and "Peppermint". I am saving "Peppermint" as part of my giveaway prize, which is why it is not pictured. The only color I didn't get was "Grape Vine" (not sure if that was forgotten or if it wasn't part of the campaign). First off, the packaging is freakin adorable. I mean…look at them. I love it! The bright contrasting colors look awesome, especially with "Quenched" and "Pink Punch". Here is what the balm promises (from the Maybelline website):
Visibly renewed lips and 8-hr hydration
The secret: Exclusive lip renew formula with SPF 20
Protects and moisturizes lips for a full 8 hours
After 4 weeks, lips are visibly renewed and reborn
Now I'm not really sure if it does all that (can any lip balm?), but it goes on extremely smooth and the moisture lasts a fairly long time compared to some other balms I have. I was putting it on while making dinner, and I could still feel it on my lips after eating. I also think its great that it has such a high level of SPF! Most balms I've seen only have SPF 15, and the ones that have SPF 20+ feel very heavy and medicinal. Sun protection is definitely good for your lips! Now on to my favorite part about this product…the colors: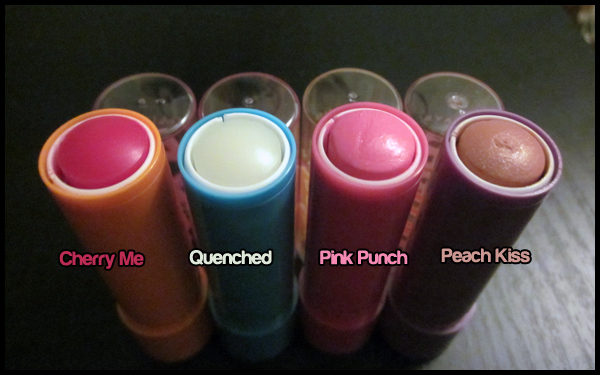 My favorite color would have to be "Pink Punch", which is an interesting choice for me because its HOT pink and I'm usually against bright lip colors. However, the color is subtle enough that it gives the perfect pop of pink to your lips without overdoing it. I also really loved "Cherry Me", which is a bright red in the tube but comes out as more of a rose color. Very pretty, and not too bright which I love!

(on left: "Pink Punch", on right: "Cherry Me". Click for larger photos)
"Peach Kiss" is a nude (almost clear) peach color with a little bit of shimmer. It doesn't really show up on your lips that much (I compared it to Burt's Bees Tinted Balm in "Tiger Lily", and it was a bit lighter than that), but it does show up a tiny bit and the shimmer definitely looks nice. This is the one I wear the most often. "Quench" is a clear color and I usually put this on before I go to bed. I feel like "Quench" is the smoothest of all the balms. "Peppermint" (which I have not tried) is clear as well. As for flavors, their names describe them very accurately. "Pink Punch" is exactly like fruit punch and "Peach Kiss" is exactly like a sweet peach. Unfortunately, "Cherry Me" has more of a Tylenol taste to it than actual cherries, which is a shame…but I put up with it for the color! I've decided that "Quench" tastes exactly like Fruity Pebbles (or fruity cereal in general) haha.
All in all, I am absolutely loving these balms! I'm a huge fan of tinted lip balms in general, because I'm not great with lip color and I feel like tinted balms are a great way to get a subtle hint of color plus moisture and SPF. Even better, these balms retail for around $3.99, so super cheap too! I may pick up the "Grape Vine" balm…I'm interested in the color of that one!
Don't forget to enter my giveaway for a chance to win the "Peppermint Balm"!
Will you be trying out any of Maybelline's Baby Lips balms? Let me know in the comments!