Circe by Madeline Miller
Circle tells of the story of a goddess who is the daughter of Helios, god of the sun. Although born to a powerful god, Circe's life is full of many challenges as she is rejected by most of her family for not being as powerful or beautiful as her brothers and sister. However, she discovers she actually has the power of witchcraft, which she uses to her advantage and leads to her father banishing her to the deserted island of Aiaiai. Throughout her many years on the island, she encounters a number of gods and mortals famous in Greek mythology such as the Minotaur, Daedalus and Icarus, Medea, and Odysseus. She comes to love the genuineness and bravery of mortals, and struggles with her loyalty between the world of the gods and that of mortals. No exaggeration, but this is probably the most beautifully written book I've ever read! Miller manages to be descriptive but in an intriguing way, without dragging or being overly-wordy (like The Alienist was). I was hesitant to get this one because I thought the Greek mythology aspect was going to be too over my head, but it wasn't at all, and I didn't need to have much knowledge about Greek mythology to enjoy the story. That being said, I did do a little background on wikipedia just so I would have a fuller understanding of the characters. Behold this badass painting of Circe chilling among some big cats! In short, this is a beautiful book and well deserving of its 2018 Book of the Year status from BOTM!
My rating:
5 of 5 stars
Where'd You Go, Bernadette? by Maria Semple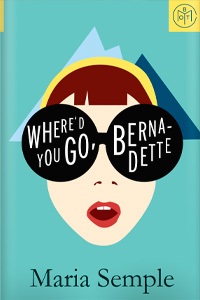 I was itching for a lighter, quirkier type of book so I chose Where'd You Go, Bernadette? by Maria Semple as an August add-on. Since the movie was coming out about a week after I started this, I figured it was fitting! Bernadette Fox, an agoraphobic former architect, lives in a beautiful home in Seattle with her husband, Elgin, and teenage daughter, Bee. She rarely leaves the home, deferring all her errands to a virtual assistant from India. She consistently butts heads with other moms at her daughter's school, and her mental state becomes increasingly worrying to her husband. Bernadette suddenly vanishes in the midst of preparations for a family trip to Antartica, and her husband and daughter are left to try and find her whereabouts. I will say this did get mixed reviews so I was a little skeptical. I did struggle through maybe the first half. Its written as a series of emails and letters (with some narration by the daughter). It took me awhile to get used to that kind of formatting, but it all makes sense in the end. I was all set to rate this 3 stars for most of the book, but I really loved the last portion (which was mostly narrated by the daughter) and the ending, so that bumped it up to a 3.5 for me. I was hoping for something similar to Eleanor Oliphant after reading the description, but it wasn't quite at that level. Although I did enjoy the ending, I wouldn't say its a must read, although it definitely is a quick and mostly entertaining read if that's what you're looking for.
My rating:
4 of 5 stars
The Whisper Man by Alex North (August BOTM)
I was torn between this and a new Ruth Ware book for my August BOTM (both thrillers). I went with The Whisper Man due to the rave reviews! It a man named Tom and his son, Jake as they move to the town of Featherbank after the death of Tom's wife. There is an uneasiness in Featherbank due to the recent disappearance of a young boy which bears similarities to an old case involving The Whisper Man, a man who abducted and murdered several children in the area 20 years prior. Being that The Whisper Man, Frank Carter, has been in prison for years, detectives Amanda Beck and Pete Willis must figure out if this new abductor is somehow connected to Carter or simply a copycat. Tom soon begins to worry about Jake and his recent strange behavior, which includes an imaginary friend and hearing whispering at his window. A lot of reviews described how incredibly creepy this book is. While I didn't quite find it quite that creepy (I'm kind of hard to creep out I guess), it was an excellent and well written thriller! It kept me on the edge of my seat (in this case, my beach chair since I read this at the beach), and I really loved the twists that were thrown in. Looking forward to more books by Alex North!
My rating:
5 of 5 stars
Sign up for Book of the Month and receive 1 FREE book when you use this referral link!