Its been a full two years since I got a Stitch Fix! While I still think that they're a bit overpriced, I figure I can try one out every once in awhile, especially because there are a couple items I've been looking for and I was interested to see if they'd be able to find them. The items were a pair of distressed skinny jeans (nothing with a ton of holes though), and a button up blue-striped blouse. They hit the mark on one but not quite the other. Here's what I got…
Malri Pin Tuck Detail Blouse
Brand: 41Hawthorn
I didn't hate this blouse but didn't really like it either. The material was nice and silky but I wasn't a huge fan of the neckline trim. Also, at $54, it was way overpriced. If it was a little more simple and a little lower priced I might have considered it though, especially since I like 41Hawthorn items usually!
Purchased? Nope!
---
Jani Distressed Frayed Hem Skinny Jean
Brand: Democracy
An attempt was made, but not quite what I was looking for. I appreciate that my stylist didn't throw in full-on crazy ripped up jeans, buuuut these are barely distressed at all. Was looking for something a little more like this. They were extremely soft though! I would have considered maybe keeping them, but unfortunately the waistband was just a bit large/stretchy on me (a problem I have with most jeans).
Purchased? Nope!
---
Casielle Sleeve Detail Top
Brand: Brina & Em
Ugh noo I really hate this style of shirt with the billowy sleeves. I almost didn't even try it on, but sometimes I'm surprised and end up liking something I didn't think I would after trying it on. Nah. Hard pass on this one. Very nice soft fabric though and I do love polka dots, just wish the style were different.
Purchased? Nope!
---
Annice Two Pocket Textured Cardigan
Brand: Emory Park
I was actually excited for this one! But unfortunately the sleeves were a bit odd (not long enough to cover my arms), and the fit was just very baggy overall. I also simply have too many cardigan sweaters and this didn't really provide any advantages over the ones I have. Right on the money for my style though!
Purchased? Nope!
---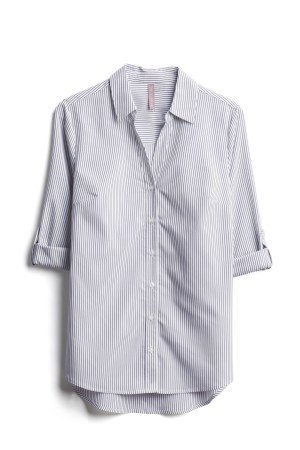 Larson Button Down Blouse
Brand: Brina & Em
This one I was most excited about since it was the only one I figured I'd keep, but my heart sank when I tried it on because it just wasn't as fitted as I would have wanted. I looked to see if I could exchange for a smaller size but they were all sold out. So I ended up keeping it (I always keep something so that styling fee isn't for nothing), and I'm gonna try and see if it'll shrink in the dryer. I love sleeves like this that roll up, so that should prevent it from looking to big on me too.
Purchased? Yes!
---
So there we have it…my first Stitch Fix in two years. It was…okay. Hopefully future ones are better. I'm thinking of doing another once a season thing. While I'm really trying not to buy too many clothes, I honestly only end up liking only maybe 1 thing in these boxes anyway. I've also been having very good luck with selling some things on Poshmark! If you're interested, you can check out my Poshmark closet here.