Good grief this post is laaaate. I had to look up on Goodreads what I even read last month cause I forgot! Holiday vacation definitely hampered my reading schedule!
Where the Crawdads Sing by Delia Owens (library)
The "it" book of 2019…of course I had to read it! After 3 weeks of being on my library's waitlist I was able to pick it up. I assumed I wouldn't enjoy it because of all the hype, but for me it really did live up to the great reviews! Kya Clark (also known as the "marsh girl") is left abandoned as a young child and is forced to survive on her own in the North Carolina marsh. The story follows the entirety of her life as a reclusive social outcast in her small town and the 2 loves she makes along the way. Her story is alternated with the "present day" (in this case, 1969/1970) where a murder of a young man in the marsh is being investigated. This book really tugged at my heartstrings! Its one that will definitely stay with me for awhile. It reminded me a lot of This Tender Land in a lot of ways as well. There a lot of nature descriptions. Like…a lot. So if thats something that you don't like, this may not be for you (I don't personally love excessive nature talk but I usually skim these paragraphs). The ending is a twist, and it seems that a lot of people hate it and its one of the main reasons for negative reviews I've seen, but I personally loved it. 5 stars for me!
My rating:
5 of 5 stars
Long Bright River by Liz Moore (BOTM)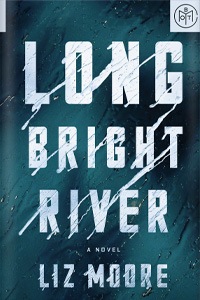 You know when I see a book that takes place in Philly, I choose it right away! Long Bright River takes place in present-day Philadelphia and explores the relationship between 2 sisters – younger sister, Kacey, is a drug addict living on the streets of Kensington, older sister, Mickey, is a cop who patrols those same streets. Though their relationship is strained, when Kacey disappears, Mickey takes on the task of trying to locate her at all costs, risking her life and job in the process. The story alternatives between the present day and their childhood. I didn't immediately categorize this as a thriller because its really focused on the drama between the sisters and their relationships, but it really does have a thriller aspect to it as well which I loved, especially towards the end where it twists and turns all over the place…something I definitely wasn't expecting! I will say this book took me a little while to get into (but that might have been because I started it right before the holidays). It picked up in the middle and then picked up quite a lot towards the end. The Philly-centric references were really cool for me to read as well!
My rating:
4 of 5 stars
Sign up for Book of the Month and receive 1 FREE book when you use this referral link!