I came home yesterday to a crap ton of stuff waiting for me. My Allure Beauty Box was there, along with a recent Stylemint order, and my Target beauty sample bag that I forgot I had signed up for. I'll be posting the contents of the Stylemint and Target packages later, but for now I want to talk about the Allure Box! I was surprised it came so fast since I only ordered it last week and it said it takes 2-4 weeks to ship…guess not! It came with so much stuff that I couldn't even fit it all into one picture, so I've divided them into sections. All of this was just $39.99 (+ $10 shipping)!

Hair Products (from left to right)
John Frieda Full Repair™ Style Revival Heat-Activated Styling Spray
Aloxxi Colourcare Leave-In Conditioner
John Frieda Sheer Blonde® Go Blonder Controlled Lightening Spray **
Redken Powder Refresh 01 aerosol hair powder/dry shampoo
Pantene Pro-V Normal to Thick Hair Solutions Anti-Breakage Shampoo **
Pureology Perfect 4 Platinum Miracle Filler Treatment **
Pantene Pro-V Normal to Thick Hair Solutions Anti-Breakage Conditioner **
Fekkai Glossing Cream
Oscar Blandi Pronto Dry Shampoo Spray Oscar Blandi® Pronto Dry Shampoo
John Frieda FRIZZ-EASE® Sheer Solution Lightweight Frizz Control

Skincare Products (from left to right)
Dr. LeWinn by Kinerase Instant Dermal Wrinkle Filler **
Clean & Clear Morning Burst Skin Brightening Facial Cleanser **
Neutrogena Pure & Free Liquid Daily Sunscreen SPF 50
Cetaphil Dermacontrol Oil Control Foam Wash
Cetaphil Dermacontrol Oil Control Moisturizer SPF 30
Biore Combination Skin Balancing Cleanser **

Bath and Body Products (from left to right)
Gilette Venus & Olay Razor
Jergens Natural Glow & Protect Daily Moisturizer with SPF 20
CeraVe SA Renewing Lotion
Tantowel Look Good Naked Self-Tan Towelette (5 pk) **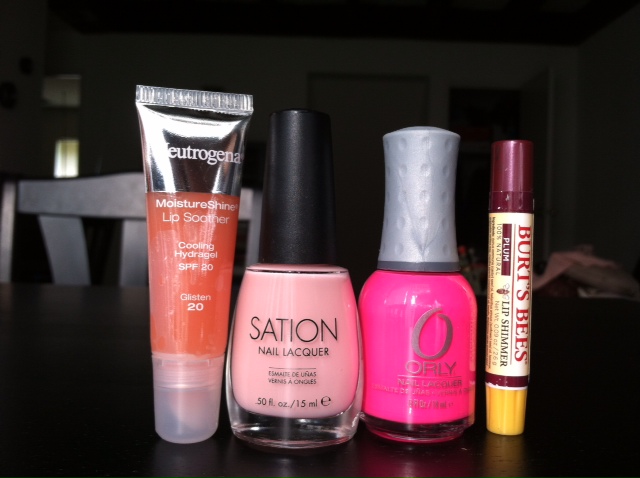 Makeup Products (from left to right)
Neutrogena MoistureShine® Lip Soother with SPF 20 in Gleam
Miss Nail Lacquer
Orly Nail Lacquer in Beach Cruiser
Burt's Bees Lip Shimmer in Plum **
** All products with the stars next to them I will be trying to get rid of by either selling, trading, or donating. A few of them are just things I can't use (like the two hair products meant for blonde hair and the wrinkle treatment). And the other ones I just don't have an interest in using. The Burt's Bees Lip Shimmer I have used once, and I liked it but the color was too dark for me =( I'll be doing a separate entry probably about these products, but just wanted to mention them now in case anyone was interested in them (just send me an email! You must be in the US and use Paypal). They are all of course unopened (save for the Burt's Bees).
I'm looking forward to trying all of these products and will have up reviews on them as I try them out! Some may stay unopened for awhile until I use up my current products.
Did anyone else out there pick up the Allure Beauty Box? What do you think of it?