This extremely simple Stylemint tee is one of their earlier releases, but I've had my eye on it for so long that I decided to just get it this month instead of one of the April tees, which I wasn't really feeling. I also think it is one of their most popular tees because its so basic and versatile!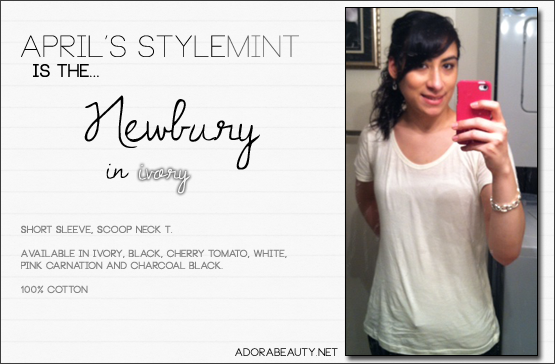 I got it in a size 2 since the size 1 was sold out so its a bit loose on me but its not too bad. The material is so incredible soft and cozy! Its very sheer, so a cami underneath is needed. Getting such a plain shirt (especially a white one) is a bit silly, but it can be spiced up in a bunch of ways like adding a scarf, or a statement necklace, or any other kind of accessory. I've also been wearing it bed lately, which is obviously not what I want to use it for but its so soft that I can't help it haha.
I should also mention that I got a free gift with this purchase, which was the Yves Rings from Jewelmint. At first I wasn't a big fan of the rings (I don't wear rings that often) but I've come to really like them…they're really unique and fun! I worried they would be too big, bit they fit well and they're slightly adjustable so I was able to tighten them to a perfect fit.
About the program: Stylemint is a monthly subscription that costs $29.99 (with free shipping). You get to chose 1 tee each month designed by Mary-Kate & Ashley Olsen! Click here to sign up 🙂