So I got back from our Vegas trip last Tuesday (I should have posted earlier but I've been busy), and I'm really missing it! It was a lot of fun, and most importantly it was something different. But now its back to the grind. 🙁 At any rate, here is a quick summary of what we did!
Thursday: Fortunately, we had a straight flight to Vegas at 8AM. Because of the time difference, we got there at 10AM. They seriously do not give you any free food on flights anymore. Not even a tiny bag of peanuts! I would think that a 5 hour flight would have some sort of food with the exception of the (probably gross) $8 meals. Needless to say I was starving when we landed so we ate immediately. We got to our hotel (which was the New York New York – pictured on left) and left our luggage with the bell hop since we couldn't check in till 3pm. Then we just walked around our hotel and the surrounding area and malls for a bit. We had dinner at a Mexican place in our hotel…got one of those huge souvenir cups of margarita (the first of many). =p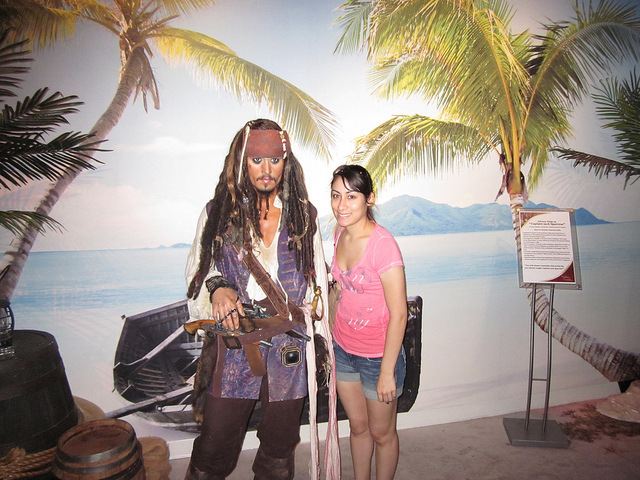 Friday: We did a LOT of walking. Like all the way up the strip and back. My feet were killing me!
We went to the Grand Canal Shoppes…which are pretty cool because they look like they're outdoors and actually have a little "canal" running through them. Super cute! We also went to Madam Tussauds Wax Museum, where the majority of our photos were taken. For dinner, we went to a dinner-show called "Tournament of Kings". Lots of medieval things and jousting and horses and all that kind of stuff. It was fun!
Saturday: We spent Saturday at the Adventuredome at the CircusCircus hotel. Its basically a theme park inside a huge dome. I hadn't gone on a roller-coaster in quite some time, so that was pretty fun. Afterwards, we went to The Stratosphere Tower, which is super high up in the air and you can see pretty much everything. I also partook in bottomless margaritas, which should totally not be allowed because I think I had 3 and I definitely don't remember getting home LOL. Thank goodness for Shawn!
Sunday: I have no idea why I'm blanking on what we did during the day on Sunday (perhaps I was too hungover haha). I think we went to MGM to see the lion habitat. There was this adorable baby lion there and I was trying to get a picture but there were too many kids in the way. X( In the evening, we went to see Phantom: The Las Vegas Spectacular (basically a shortened version of Phantom of the Opera) and it was amazing. They didn't cut out much that was noticeable, and the special effects were pretty incredible. Although looking directly at pillars of fire can be kind of blinding.
Monday: Monday was Shawn's 25th birthday! It was raining, so my previous plans to lounge around by the pool were thwarted. We checked out M&M World and did some souvenir shopping as well as gamble a bit at our hotel. In the end, I lost about $30, which isn't too bad. Shawn won $170 and lost that pretty soon unfortunately. So yea…we did not win big that's for sure. For our last dinner there, we went to an Irish restaurant in our hotel.
Tuesday: Got up at 5AM to leave for the airport. Got into Charlotte at 4PM or so, and found out there was a tropical storm in Philly so our flight was delayed by about an hour. There was this crazy old Southern guy sitting next to me who would not shut up. He was nice, but I was so tired and was not in the mood for socializing. When we got into Philly, it took forever to find my dad because the Philly airport is total crap (if you've ever been in it you know what I mean). After grabbing McDonalds, we finally got home around 9:30PM. Then work the next morning. I was a zombie!
If you want to see more pictures, just go to the sidebar or my Flickr account.