Finally getting around to reviewing Benefit's Hello Flawless Oxygen Wow Foundation! I know I promised it forever ago, but I just haven't gotten around to taking my own photo of it until yesterday. As you can see, I'm already almost halfway done the bottle.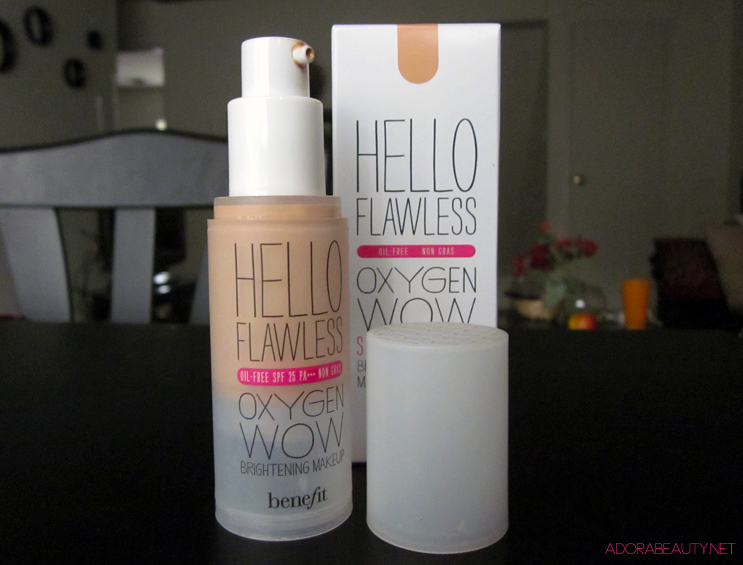 I absolutely love this foundation! This is the first true liquid foundation I've tried in a long long time (I consider Laura Mercier's Silk Creme as more of a cream foundation than a liquid).
First off, the packaging is ridiculously adorable. The bottle is plastic, but I love how it has that foggy glass effect. I also may be a design nerd, but I'm loving the typography on the bottle and box. Most importantly, this bottle comes with a pump! It makes it so easy and mess-free to dispense the product. It also came with a small sample of Benefit's Porefessional included in the box.
The shade I picked up is called "I'm So Money Honey". At first, I was thinking of going the lighter shade because I was afraid this would be too dark, but once I actually looked at the shades in person I chose the Honey, and I'm so happy I did! I have never found a foundation that matched my skin-tone as perfectly as this! I tried to take a photo of it swatched, but I apparently suck at swatch photos and it kept turning out blurry. :/ I would suggest swatching it in person before buying if you can.
The consistency is pretty thin (especially compared to the LM), but it is very easily blendable. I usually use my beauty blender with this, which works perfectly, but I've also used my fingers to apply it and it blended super easily that way also. The coverage is light, but buildable to medium…very natural looking and brightening, but still covers flaws pretty well (definitely not at all cakey). The finish is on the dewy side (bordering on oily), although using a matte primer underneath might help a bit with that, and powder would as well of course. Thankfully, this foundation does not accentuate any of my dry patches, which is my main gripe with liquid foundations. This would be a great foundation for those with normal to dry skin. If your skin is oily, I might not suggest this for you as it tends to look more oily throughout the day. I'm usually okay if I use my primer underneath, but sometimes I'll blot, especially if its a hot day out.
All in all, I think I've found my perfect everyday foundation, and Benefit continues to be one of my favorite cosmetic brands! I love that this is so natural looking, but still makes your skin look flawless and radiant. It also has the bonus of being SPF 25 PA+++ (the PA+++ means that it is the highest protection for UVA rays). This is a definite re-purchase for me and something that I'll use throughout the Winter as well! The only one downside is the price, which is $34, but is well worth it to me and thankfully not as much as the LM which is $42 (saving that for special occasions only). =)
My Rating: