APR: The Oracle Year by Charles Soule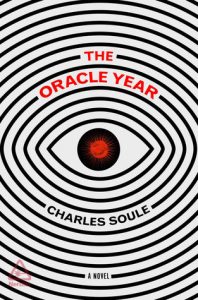 The Oracle Year is a Sci-Fi book that reminds me a little bit of Dark Matter. It follows Will Dando, a musician who suddenly receives hundreds of predictions from the future in a dream. With the help of his friend, he sets up a website (known as "the Site") and lists some of these predictions, all of which come true. The site goes viral and ends up influencing a number of world events and international politics. The book has quite a few characters and narrators (Will and his friends, the president of the United States, a preacher, a journalist…). At first I didn't really understand why there were so many unnecessary characters but they do all connect nicely in the end. It is a very long book compared to the other BOTMs I usually get and I feel like it could have easily been cut down to be shorter without sacrificing too much of the plot. Most of the book is focused on Will wondering why all of this has happened to him and what the greater purpose is, and honestly I feel like these questions aren't answered satisfactorily by the end (though perhaps that's the point). That being said, it was still a great and thrilling read (getting much more action-packed at the end) and I'd definitely recommend it!
MAY: Still Lives by Maria Hummel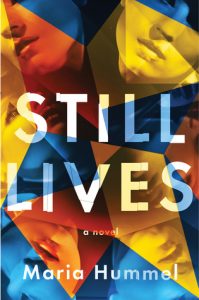 Maybe it was because I had just finished such a fast-paced thriller, but this book didn't wow me or keep me super interested most of the time. It revolved around the disappearance of a famous artist, Kim Lord, who didn't show up to her much anticipated gallery opening. Its told from the point of view of Maggie, an employee of the museum where her gallery was being shown (and also the ex-girlfriend of Kim's current boyfriend). Although this mystery is brought up almost immediately in the first couple chapters, I didn't find it very intriguing and the first half of the book seemed to drag on without much plot progression. The pace picked up a bit towards the end, which kept me interested, but the final reveal seemed kind of rushed. I felt like there were SO many characters (most of whom weren't super developed, unlike The Oracle Year) that anyone could have really been the culprit and it wouldn't have been that much of a surprise. With all that being said, I will say that I absolutely loved the author, Maria Hummel's, writing style. She has an amazingly accurate way of describing things that made me chuckle off and on. There's also this passage in the book that describes the life of a 30-something woman which was completely on point.
JUN: Calypso by David Sedaris
I wanted to read a non-thriller for June, and luckily this David Sedaris book was one of the options. I've read a couple of his books a long time ago and remember really liking them. This, like many of his books, is a collection of personal short stories. They mainly center around stories related to his family and beach house ("The Sea Section" lol!). As with all David Sedaris books, this was definitely funny and enjoyable, and a nice change of pace from the more heavy books I'm used to. He has such a relate-able and honest way of describing everyday things. I think my favorite story was "Your English is So Good" where he complains about inane things that people say or do (like Americans tendency to say "awesome" and carry around giant water bottles…I was cracking up!). There are also some more serious parts where he talks about his sister's suicide and family life growing up, so it hits all the right notes. Its a quick read too, so definitely a good one to bring along to the beach.
EXTRA: Sharp Objects by Gillian Flynn
I finished "Still Lives" kind of early in May as it was a short book, so I decided to order this book which I've been wanting to read ever since there was an HBO series announced. Its written by Gillian Flynn of "Gone Girl" fame, so I expected a similar type of plot and writing style. I'll be honest, the initial plot summary was a bit cliche as far as chick thrillers go – woman journalist returns to hometown after many years to solve murder mystery (I think that's literally the plot of at least 3 books I've read in the last year??), though it did have some interesting twists and turns towards the end. Camille, the journalist and main character, has some issues of her own and was recently released from a psychiatric facility. The story uncovers some mysteries surrounding her own family and childhood, which Flynn gradually connects to the main murder mystery story line as you go along. My main complaint is that the ending felt very rushed (with a twist occurring on what felt like the last few pages), and I also missed the multiple POV that are found in her other novels, but overall I did enjoy it.
EXTRA: Dark Places by Gillian Flynn
Okay I guess I'm on a Gillian Flynn kick! I needed a book to read for my trip to California, and since this is the last book by Flynn that I have yet to read I figured why not? My expectations were similar to her other novels, though I ended up watching the trailer for the movie adaptation of this starring Charlize Theron, and found it really interesting. Its another "woman returns to hometown to solve mystery" type thing, but the mystery involves the murder of the woman own family (mother and 2 sisters) which occurred when she was a child. The woman, Libby, ends up testifying against her teenage brother, Ben, who was charged and is still serving time in prison. She begins to question his involvement after meeting a club of people called the "Kill Club" who strongly believe in his innocence. This novel had great pacing, and the multiple POV that I love which was missing from Sharp Objects. In this case, it switched between Libby in the present and her mother and brother in the past, which made the telling of this story all the more suspenseful because you could follow it in real time instead of only the main character uncovering it later. This was actually my favorite Flynn novel of the 3 I've read (with Gone Girl in 2nd, and Sharp Objects in 3rd).
It looks like I've been finishing my Book of the Month books rather early in the month (maybe due to my 2 train rides a day), so except an extra or 2 each quarter!