#HelloSummer! Its the first day of Summer, so what better time to review my FabFitFun Summer box! I received this last week, and loved it as always. FabFitFun is my favorite subscription box!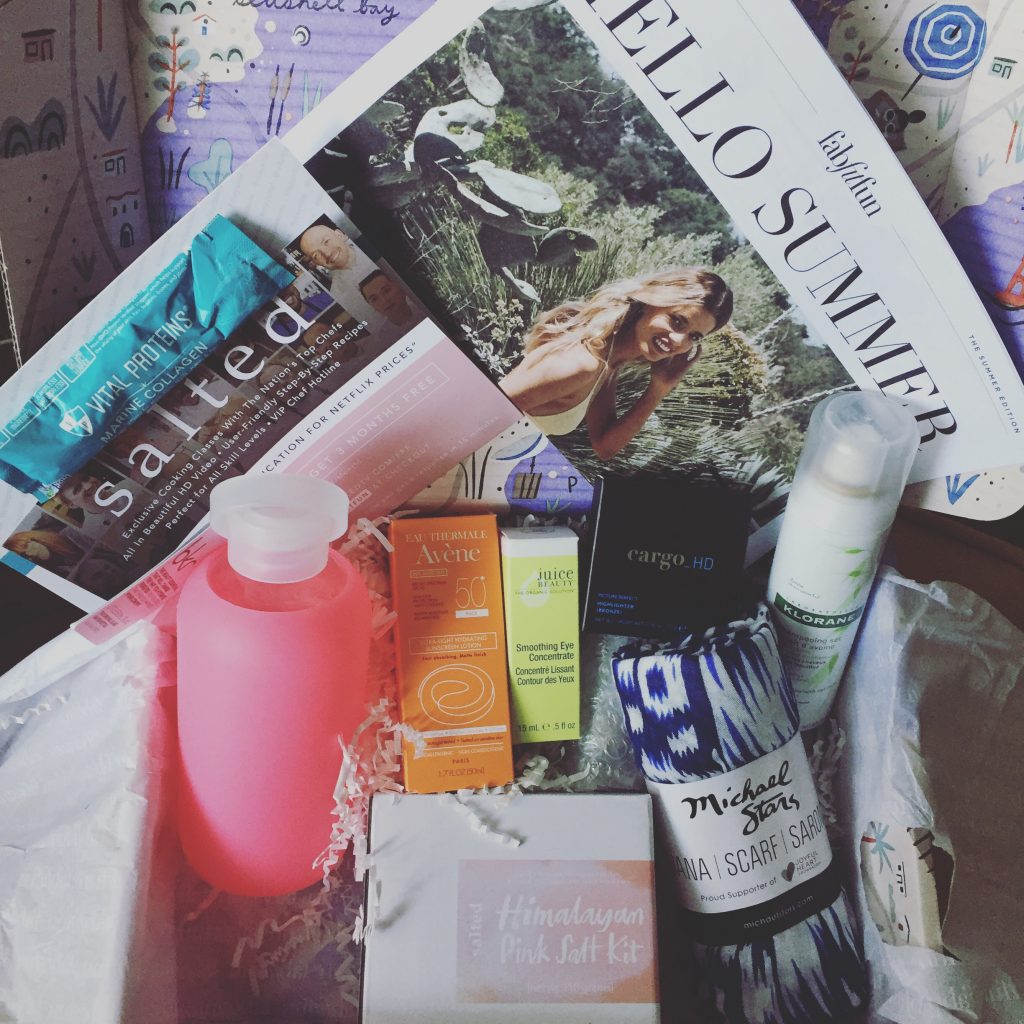 Here's what I got!
Michael Stars Ruana (in Brush Batik) As an annual subscriber, I got to choose the color of this scarf. I chose the blue shade since I don't really have anything that color. Its gorgeous! Perfect for the beach as a coverup or just as a scarf.
Salted Himalayan Sea Salt Kit This was the "Chef" choice (the other 2 you could chose from were "Traveler" and "Artist"). I'm glad I chose this as those other options didn't really interest me. This is an adorable little kit that contains 2 rocks of pink himalayan sea salt along with a grater and a little wooden board. Adorable!
Klorane Dry Shampoo This was the "Beauty" option (the other one was "Fitness"). This is actually my favorite dry shampoo (I've gone through 2 bottles in the past), so while I was a little disappointing that this wasn't a new item for me to try, its always good to get something I know I'll use!
Kris Nations Mystic Bar Necklace (in howlite) I was able to pick the color for this little necklace, too, and chose the white since that seemed like it would match most things. Its an okay necklace (3 little white beads)…nothing too great especially compared to the higher quality jewelry that I've gotten in FabFitFun boxes which were more my taste, but I'll definitely try to wear this every so often.
Bkr Little Bottle (in Rosy) I have SO many water bottles but this one is adorable! Once again, I got to pick the color (either pink or blue…and you know I chose pink! haha). Its a bit heavy which is the only downside since its glass, but I might take it to work to leave on my desk. Not sure yet.
Avene Ultra-Light Hydrating Sunscreen Lotion SPF 50+ I haven't tried this out yet, but its good to have a facial sunscreen since I hate putting regular sunscreen on my face.
Juice Beauty Smoothing Eye Concentrate I've been using this eye cream for a few days. Its nice and hydrating. I probably wouldn't use an eye cream if I didn't get this in my box, but I'll definitely try to use it up (fun fact…I'm still working on a moisturizer that I received in last summer's FFF)
Cargo HD Picture Perfect Highlighter (in Bronze) I was worried when I saw the word "Bronze" (I'm not someone who uses bronzer), but luckily this is a gorgeous highlighter and not a bronzer at all. I'll definitely use this during the summer!
Vital Proteins Marine Collagen Anti-Aging Dietary Supplement Oddly enough, I've just recently started taking collagen supplements (I take these gummies from Olly), so this was a nice single use packet to use in place of those for a day. I probably wouldn't buy these since I prefer the gummies, and its too early to really see if they work, but I will say that this powder was tasteless and easy to add to water, so if you prefer powder supplements you can give this a try.