If you're interested in signing up for Hungry Harvest, here is my affiliate link which will get you $5 off your first order 🙂
---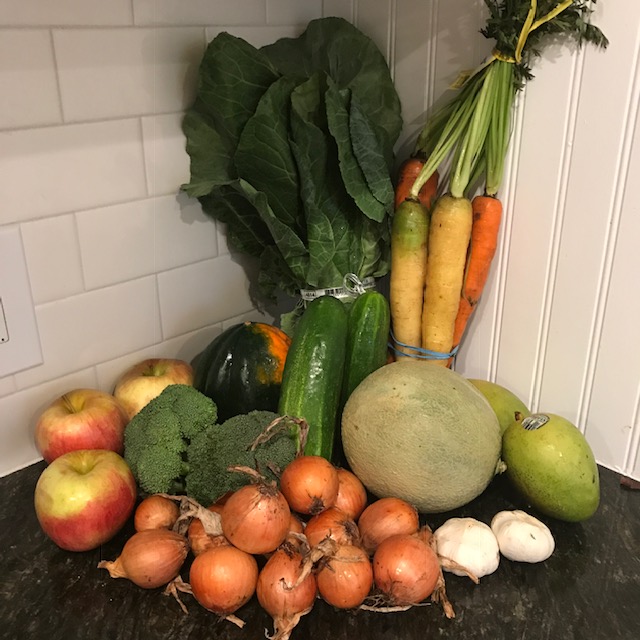 Acorn Squash
Broccoli Crown
Cameo Apples (3)
Cantaloupe
Collard Greens

Pickling Cucumbers

Mangoes (2)
Yellow Onions
Extras that I ordered: 2 bulbs of garlic, 1 bunch of organic rainbow carrots
I really liked what they sent in this box! I did get a "bad apple" though. I emailed customer service and they credited me for it so it all worked out 🙂 This will be my last HH until basically December due to our vacation in a few weeks. Luckily, I have a LOT of recipes for you today since I guess I didn't use many of these ingredients together…which is okay, since I get to try more new things 🙂
Hoppin' John with Collard Greens
Used: Collard Greens, Onions, Garlic
This took awhile to simmer, but it was yummy and very filling! I modified it a bit from the linked recipe by adding in the collard greens and replacing ham with smoked andouille sausage. I also left out the celery cause I just hate buying celery unless I use the whole thing. I also used broth in place of water. Yummy!
Thai Coconut Curry Carrot Soup
Used: Carrots, Onions
This was delicious! I knew it would be because I love anything involving Thai red curry paste. It was also surprizingly filling for being a vegetable soup. The carrots that hungry harvest sent were so pretty…I just love rainbow veggies! I will have to keep this soup in my winter soup rotation!
Honey Lime Salmon with Mango Avocado Salsa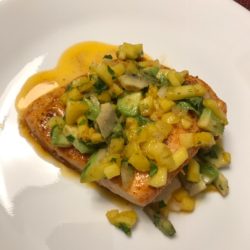 Used: Mango, Onion
I had NO idea what to do with mangoes. I could've just eaten them as a fruit (like I did with the cantaloupe), but I wanted to do something more with it. Creme De La Crumb is one of my favorite recipe sites, so I was excited to find a salmon recipe involving mango! This was very yummy, especially the honey sauce! I wasn't expecting to like the mango salsa (cause I don't really care for chunky salsas), but I ended up eating the leftovers with chips and it was delicious.
Teriyaki Chicken and Broccoli
Used: Broccoli, Onions, Garlic
I wasn't originally planning on using a recipe for the broccoli, but this one sounded simple enough. I ended up making about half the sauce it called for cause it was just way too much…I opened a new bottle of soy sauce and it I used half! It was very good though, and simple!
Smokey Maple Roasted Acorn Squash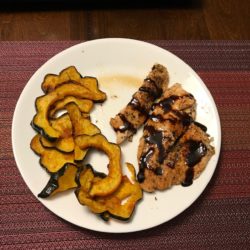 Used: Acorn Squash
These were a delicious side dish! I absolutely love any kind of roasted squash. I substituted the smoked paprika with chipotle chili pepper, which probably made it a tad more spicy than it was supposed to be. I served it with this chicken and potato dish which was also delicious (although the potatoes weren't ready in time for the photo).
Dill Pickles
Used: Pickling Cucumbers, Onions, Garlic
I've never made pickles before! We had a newly emptied pickle jar so I figured why not…they're pickling cucumbers after all. I also wouldn't have known what to do with them otherwise. We waited a week for these to "pickle" (the recipe says 24 hours, but I'd suggest waiting longer!). They turned out really good and I can't believe how easy (and cheaper) it was. I'll probably try to pickle more often. The only thing I'd change is maybe cutting the cucumbers a bit smaller.