Please ignore the fact that the photo for this is not the same as the books below…I didn't get to read both my April books due to my move, but I'll be reviewing Valentine for May!
All The Light We Cannot See by Anthony Doerr (BOTM Add-on)
All The Light We Cannot See is actually a book I got for my mom for Christmas last year. She actually didn't love it…said it was too descriptive. The Nightingale is one of her favs so I thought she might like this one as the 2 get compared a lot. Figured I would read it also to form an opinion! Like The Nightingale, this novel takes place in WWII, mostly centered in France. It starts in the year 1944 with a blind girl named Marie-Laure who is alone in her house as a bombing is going on outside. In the same city, a German boy named Werner Pfennig who is working for the Nazis is trapped under a bombed building. The book goes on to detail their lives leading up to that point, from their childhoods in France and Germany…Marie-Laure's life with her father and Werner's life as an orphan, and eventually meets up to where the book started. This is definitely one of those books that I'd consider a saga. Its pretty long, and basically details the life (in this case, lives) of its characters from childhood to adulthood, with some other character stories thrown in as well. Lucky for me, those are the types of stories I love, so I really ended up loving this one! I didn't think it was too descriptive as my mom did, though I don't usually find that an issue to begin with (I actually kind of like really descriptive stuff as I feel more involved in the setting). Honestly, I think I liked All The Light We Cannot See a little bit more than The Nightingale. I really enjoyed how their stories connected and the characters were a little more interesting, but maybe that's just because its more fresh in my mind. It did take a while to get through as its long, but I was kept interested in the whole time. If you love historical fiction, definitely try this one out!
My rating:
4 of 5 stars
Red, White & Royal Blue by Casey McQuiston (BOTM Add-on)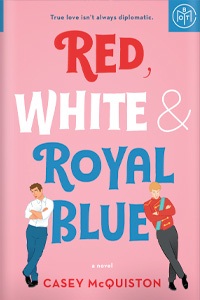 Sometimes you just need a really light, fun book as a palate cleanser! This romance got rave reviews on both BOTM and Goodreads, so I picked it as my birthday month add-on. Unfortunately, it took me longer to get through due to my move…I think there was a whole week where I was just too busy to read, but I just finished it and absolutely loved it! It follows the romance between first son of the United States, Alex Claremont-Diaz, and Prince Henry of the UK, and the tensions their romance causes politically. Yes…its completely implausible and silly, but so much fun! This book actually had me laughing at a lot of bits and crying towards the end. The writing style at first seems a bit juvenile, but its actually very witty and really well-written (think more cheeky blog post than high brow novel type writing…still good, but different). This is probably the best romance book I've read, which granted is a very short list (my runner up is probably Well Met). At any rate, I'd highly suggest this if you're looking for something light and sweet!
My rating:
4 of 5 stars
Sign up for Book of the Month and receive 1 FREE book when you use this referral link!