Lotta books for you this month…#quarantinelife
The Girl with the Louding Voice by Abi Dare (Feb BOTM)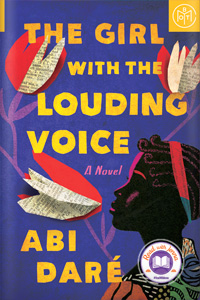 The Girl with the Louding Voice is narrated by Adunni, a teenage girl living in a remote village in modern-day Nigeria. All Adunni wants is an education, but after her mother passes away, her father sells her to an older man for marriage. After running away, she finds herself as a housemaid of a wealthy but abusive couple. She fights as hard as she can to read and to do whatever it takes to receive an education and rise above her surroundings. Since The Girl with the Louding Voice is told in Adunni's own voice, its written in broken English and does take a little bit to get used to. After the first few pages, though, you do get used to it! I think the fact that this is told in her voice makes the story much more real and allows you to really connect with Adunni. As she learns more about English towards the end of the book, the narration actually improves. This is such a sad but heartwarming story and I thoroughly enjoyed this book! It reminds me a bit of Where the Crawdads Sing. Despite the heavy material, there were actually quite a few parts that made me chuckle (Adunni doesn't understand why no one on "Facebook" is facing their books! 😂).
My rating:
5 of 5 stars
Summer Frost by Blake Crouch (Kindle)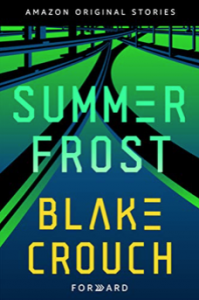 I finally got my Kindle! Also, it was a steal…on sale for like 35% off + a 15% off coupon + $25 in credits. Anyway…I wanted something quick to read, and I've had this short story by Blake Crouch (one of my favorites!) on my list for awhile, which is only available on Kindle. Its part of a series called "Forward", which is all sci-fi based short stories. Its about a video game developer who accidentally creates an AI that she ends up becoming attached to. I really loved this one! It reminded me a lot of the movie Deus Ex Machina. I will say the ending was a bit predictable for me (unlike Crouch's other novels), but it was still an enjoyable quick read.
My rating:
4 of 5 stars
The Great Believers by Rebecca Makkai (BOTM Add-on)
The Great Believers begins in the year 1985, following an art gallery director, Yale Tishman, as he navigates the AIDS crisis in Chicago. He struggles to come to terms with the fact that his friends are dying one by one, including his close friend, Nico, and that there is a possibility he could be next. Nico's little sister, Fiona, is one of the only people Yale has left to rely on. During the same time, Yale is approached by an elderly women, Nora, who wants to bring a collection of 1920s era paintings to Yale's gallery, which could either be the gallery's biggest asset or a huge mistake. The novel then jumps to the year 2015 where an adult Fiona is trying to track down her missing daughter in Paris who has become involved with a cult. She struggles with memories of the AIDS crisis in the 80's and the death of her friends and brother while trying to locate her only daughter. The novel jumps back and forth between these 2 time periods. Overall, I liked this book…though maybe not quite as good as the reviews had me to believe. I found myself really enjoying the storyline surrounding Yale's personal life and even the Fiona chapters, but really found the whole art gallery storyline to be a drag and not very engaging. I just didn't care about Nora or her history at all as much as Yale and Fiona. While I loved these 2 different timelines, I do wish they were a bit more connected beyond the fact that Yale had known Fiona. It was a bit of a struggle to get through this one, but I did like it overall and really liked the ending and how it wrapped up.
My rating:
4 of 5 stars
Oona Out of Order by Margarita Montimore (Kindle)
Oh my goodness I LOVED this book! I finished it in 3 days and literally couldn't put it down. Oona Lockhart is celebrating her 19th birthday in 1982 which coincides with New Years. However, on the stroke of midnight on New Years Eve, she suddenly wakes up as a 51 year old in the year 2015. She is completely unaware of this current future life she's leading or why it happened. Every year at midnight, she continues to jump to a different point in her life, and must navigate that year's challenges, most of the time not being familiar with the current trends, technology, or the people who surround her. Her only source of information are letters that are left by her former self to help prepare her for the year, but without giving her enough information in order to change her outcomes. This novel was just perfect…like a chick lit but with sci fi and even a couple good twists thrown in. I was so excited to see which years Oona would travel to next. It probably helps that I'm more or less obsessed with time travel related stuff. I would kill for a sequel to this book where Oona explores more years of her out-of-order life!
My rating:
5 of 5 stars
Sign up for Book of the Month and receive 1 FREE book when you use this referral link!