This is a bit late, but its because I picked 2 pretty large books for the month (This Tender Land and Spinning Silver)!
The Kiss Quotient by Helen Hoang
The Kiss Quotient has been on my to-read list for awhile now. Its on BOTM's most-loved list, and I've pretty much just avoided it because I'm really not into romance. I've read one romance book (It Ends with Us by Colleen Hoover) which I did like, but I usually don't pick them up. Everyone recommends this as a book for those who aren't into romance (me!) and this was $5 on Amazon (steal!) so I finally read it! Its told from the point of view of 2 main characters; Stella Lane, a beautiful brainy workaholic with autism who has trouble being comfortable with sex and intimacy, and Michael, the male escort Stella hires to help her with her troubles. Although their relationship is purely transactional at first, I think you know where its going lol. It's actually written by an author with autism so I found that perspective really interesting. While I don't have autism, I did relate a lot to some of Stella's perspectives and general social anxiety. Fair warning, though, this book is dirrrrrty. I was like man I hope no one's looking over my shoulder on the train or anything 😂. Despite the steaminess, it did have substance and a really cute story, albeit a little predictable.
My rating:
4 of 5 stars
This Tender Land by William Kent Krueger (September BOTM)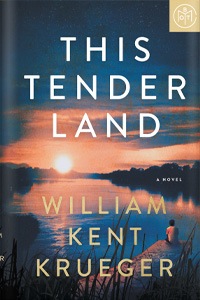 This book got rave reviews so I knew it would be my choice for September's BOTM! This Tender Land follows the story of 4 orphans as they escape an abusive school and try to make their way to St. Louis by way of the river. Along their journey, they encounter a number of obstacles but also make friendships and gain a better understanding of one another and themselves. I really enjoyed this book! Though its a little long, it kept me engaged the whole time and reminded me of something I would have read when I was younger but in a good way. Its well written and has great character development. I will say, there were parts of it that were a little overly "religious" for me personally, but that didn't take away from my enjoyment of it too much. While some parts of it are a bit unbelievable, I felt better about them as I read through the epilogue at the end which kind of addressed it. All in all, 5 stars from me…highly recommend!
My rating:
5 of 5 stars
Spinning Silver by Naomi Novik
Spinning Silver has been on my to-read list for awhile…everyone seems to really love it! The story is mostly told from the points of view of 3 women; Miryem, a moneylender's daughter who takes over her father's business, Wanda, the daughter of a man who owes money to Miryem's family and is hired as their servant, and Irina, the duke's daughter who is married to a wealthy and powerful tsar who is harboring a dark secret that could threaten her life. Miryem ends up grabbing the attention of the king of the Staryk, a magical race that is turning all of their lands to perpetual winter. Eventually, the lives of all characters intersect in order to help take down the Staryk and restore Spring. In addition to the 3 main characters, there are 3 other POV characters; Wanda's brother, Irina's caretaker, and the tsar. While I enjoyed the story, I felt like the constant change in POV broke up the consistency a bit and I got confused about who was narrating (there aren't headings for the chapters like many multiple POV books have). For some reason this took me a long time to get through and I wish the plot was a little more engrossing, but I ended up enjoying it much more towards the end when things picked up and I really enjoyed the ending! I think this would make an amazing film or TV adaptation and I'd probably enjoy that more than the book. I did definitely like it though…just didn't think it was quite as good as others did I guess. That being said, I don't tend to read a lot of fantasy, so if you're a fantasy buff this would be one to check out!
My rating:
4 of 5 stars
Sign up for Book of the Month and receive 1 FREE book when you use this referral link!