Hello everyone! I've moved into my new place so hopefully I can get to posting at least somewhat more regularly now.
I'm only just starting to dig into this Birchbox even though I received it over a week ago. Here's what I got!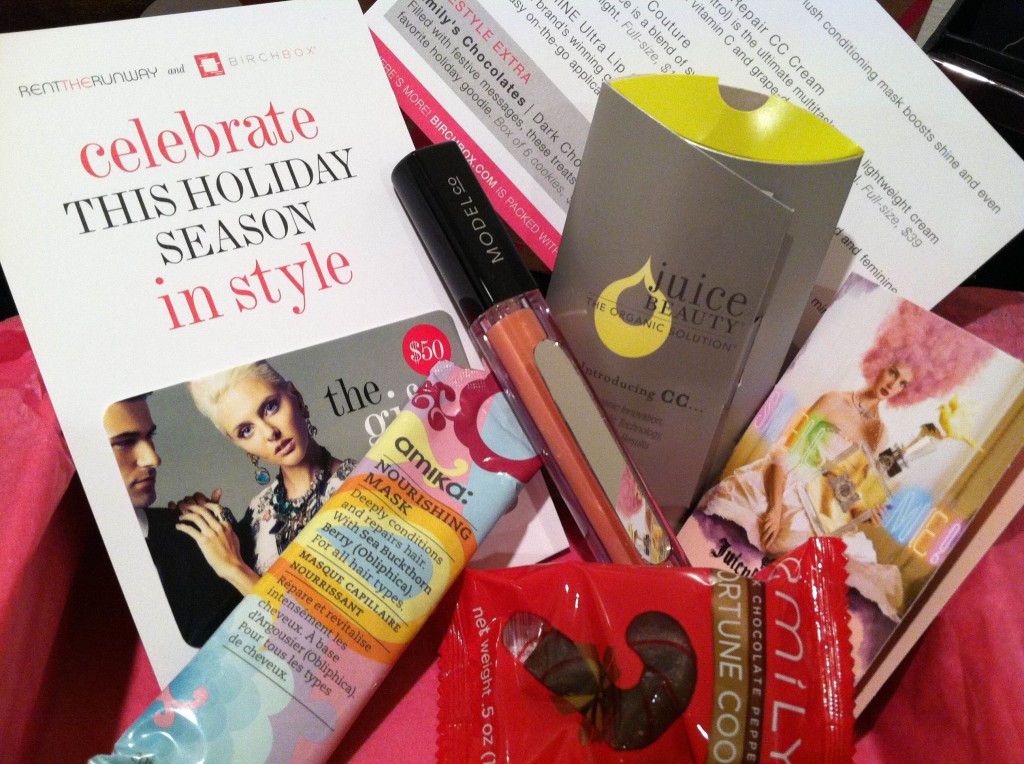 Juicy Couture Perfume This is a very light, fruity scent. Its nice, but I'm not really all that into it. I also feel like the scent fades almost immediately after I put it on. I think I like "Viva La Juicy" or "Viva La Juicy La Fleur" much better.
amika Obliphica Nourishing Mask I actually already have several samples of this hair mask, but I'd rather receive something I like than something I don't! This is a nice hair mask and I'll definitely make use of it, especially since I colored my hair recently and it needs all the moisture it can get =p
ModelCo SHINE Ultra Lip Gloss I love this gloss, and especially that its a full size! This definitely made my box this month. The shade I received was "Strip Tease" which is a nice, neutral color (almost clear) that gives a little bit of shimmer as well. What I also love about this gloss is how moisturizing it is (and also not sticky). I walked to work today and it was still keeping my lips moisturized when I got there. Usually I have to reapply when I get inside.
Juice Beauty Stem Cellular Repair CC Cream CC Cream? I'll be honest, I laughed to myself when I read the "12-in-1" claims. I think anything claiming to do 12 things has to be pretty exaggerated, but I'll still try this just to see how it is.
EXTRA: Emily's Chocolates Chocolate Covered Fortune Cookies Yum! I loved this! The flavor I got was chocolate mint (one of my favs). I could eat a bag of these =p
I also ordered the Limited Edition Birchbox Home box and should be getting it any day how…can't wait!
How did you guys like your Birchboxes this month? What did you get?