[amazon_link id="B004ITB3IW" target="_blank" container="" container_class="" ]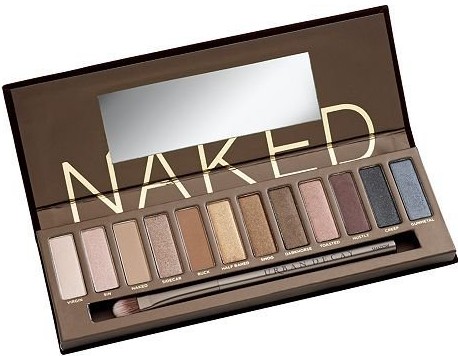 [/amazon_link] 
[amazon_link id="B004ITB3IW" target="_blank" container="" container_class="" ]Urban Decay Naked Palette[/amazon_link]
As mentioned in my July wishlist post, I have been lusting after the Naked palette by Urban Decay for quite some time now. Well, I finally got it last Friday! And like many people have said, it is worth every penny (especially for someone like myself who wears neutrals pretty much exclusively). I'm not going to swatch the colors, because I'm sure you've seen swatches of them a million times before.
The palette comes with twelve gorgeous colors (a huge value, in my opinion!). The colors are (from left to right): Virgin, Sin, Naked, Sidecar, Buck, Half Baked, Smog, Darkhorse, Toasted, Hustle, Creep, and Gunmetal. It also comes with a brush and a mini Primer Potion (I missed out on the palette with the eyeliner). What I love most about this palette is that, despite being "neutral colors", you can really do anything ranging from an everyday school/office look to a dramatic smokey eye. The brush that comes with it isn't much to rave about, however. Its a bit stiff and reminds me of my concealer brush. I would have preferred the eyeliner! =p
I have only had this palette for a few days, but I've found the perfect look to wear daily for work: "Virgin" all over my lids/inner corner/browbone, "Naked" in my entire crease, and a little bit of "Buck" to darken the outer corners. Looks super natural and pretty! I find myself using these three colors the most in the palette. I especially like "Naked" because it is almost the same shade of my skin, so I can use it to even out the color on my eyelids as well.
Here is a picture of this look, except with this I added "Half Baked" to the middle of the lid to add some more shimmer and color, since I was doing this on the weekend:

On Saturday evening, my boyfriend and I went to dinner and a movie, so I wanted a look that was a little bit darker and shimmery. With this one I used "Sin" all over my lid, "Toasted" in the crease, "Hustle" for the outer corners, and "Virgin" for the inner corner and highlight:

I'm really looking forward to experimenting more with this palette! The colors are really great quality and apply very smoothly. I have also ordered a crease brush from Coastal Scents since I don't have one, so I'm excited about how it will look after using that brush. All in all, I am glad I finally purchased this palette! Although it is pricey, it is a great investment and I know it will last me a long time.
Don't forget to enter my giveaway! I'm giving away a sugar scrub, bubble bath, foundation, and lip colors among other goodies! Giveaway ends on July 22nd. Click here for details and to enter.