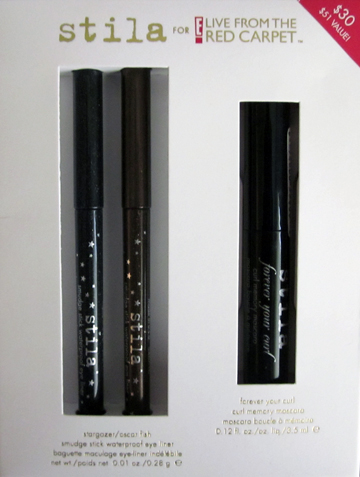 So last month I picked up the Stila "E! Live From the Red Carpet" eye trio from Hautelook! If you haven't heard of Hautelook, its a daily deals website where you can get huge discounts on really great brands (click here to sign up). I've been dying to try the Stila smudge sticks, so when I saw that this set came with two of those (in colors that I would use) plus a mini mascara (Forever Your Curl) for only $20, I had to cave and get it! The colors of the smudgesticks are "Stargazer" and "Oscar Fish", which I'm assuming are only for this specific set since the names have to do with The Oscars. They seem pretty close to the colors of "Stingray" and "Lion Fish" though.
They're very soft pencil liners, and swatched super smoothly. I really wish that Oscar Fish's color out more on my waterline though. I feel like I have to really struggle to get the color on there, which is a shame because its what I wear everyday. Maybe if it were a darker shade of brown? I did have the same issue with another brown eyeliner I use (Revlon Colorstay) but over time the color started to go on really easily, so maybe it just takes time. Stargazer, however, goes on nice and dark! Both these liners have just a little bit of shimmer in them, but its not very noticible once its on.
I forgot to take a separate picture of the mascara, which is a mini of the Forever Your Curls mascara. I like this mascara formula, though I'm not a huge fan of the brush which is tiny and reminds me of Too Faced Lash Injection. I'm more a fan of larger brushes, but the formula of this mascara is nice so it works fine for me. Its supposed to keep the memory of your lash curl, or something like that. I don't know if it does that really compared to any other mascara I've tried, though. If you want a more detailed review of this mascara, Canadian Beauty Reviews just put one up yesterday! (here's the link)
Overall, I think this was a pretty good set and definitely a good value for what you received!
My Rating:
Do you have any of the Stila smudge sticks? What do you think of them?
* referral link included