So I fell asleep today around 6:30pm (by accident). When I woke up at 7:23pm I was wayy disoriented and convinced it was Friday morning. I figured I forgot to set my alarm and also forgot to shower since my hair was all ucky. Eventually (after running around my room for a few minutes all frantically trying to "get ready for work") I realized it was in fact Thursday evening. LOL 😡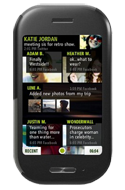 Remember how I wanted to get the Microsoft Kin? Well the pricing for it just came out online (I think today is the first day its available at verizon online) and I don't know…kinda more expensive than I thought it would be. You need to get the $30 smartphone data plan (the phone itself is $99, $50 for the little one)…but its not actually a "smartphone" so I don't know why they wouldn't have had a cheaper data plan. I really do like the phone from what I've seen though…especially the aspect of storing everything automatically online like voicemails, texts, pictures etc. Right now its either between that and a Palm Pre Plus (which is a smartphone and actually cheaper than the Kin…). We'll see.
So I've started using the Fresh Farmacy cleanser from Lush to see if that works on my acne. I got a sample of it last weekend. I love it! :love: My skin is all cleared up, plus it has calamine in it so it cleared up the red blotches on my skin as well (which was an added bonus). I still have to see if it works as far as keeping my acne at bay (which other cleaners seemed to have failed at lol) so after a couple more weeks I'll do a full review on it on the beauty blog.
I've been editing my portfolio website off and on this week…it still isn't finished yet. But one thing I noticed is that all of a sudden the url doesn't work unless you have "www" in front of it, whereas before you could have just typed it in without it and it would've taken you there anyway. Anyone have any idea why that is? haha. I didn't really change anything with the domain settings. hmm.
EDIT: I've finally finished the portfolio re-design. Check it out! Also, the whole www problem seems to have corrected itself…weird.