Hello all! I received an email a couple weeks ago from Birchbox advertising their new limited edition Birchbox Home: From the Garden Box. I loved their previous Birchbox Home box (review here) that I placed an order pretty much instantly! Unfortunately the box is now sold out, but you can still buy the full size products separately.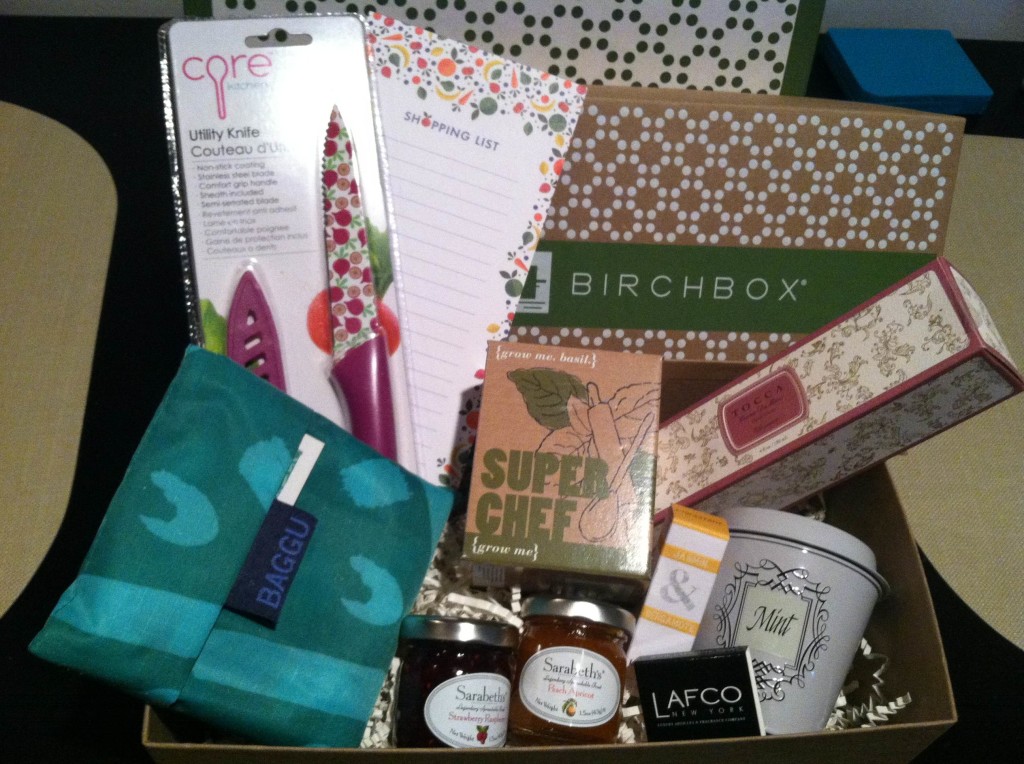 Sarabeth's Legendary Spreadable Fruit: I received two mini jars of this spreadable fruit in "Peach Apricot" and "Strawberry Raspberry". I'm honestly not a huge preserves/jam person, but I did try out the Peach Apricot and it was pretty good. The jars are quite small though…I would say one would last for maybe a 2-3 slices of toast, but maybe I just put on too much =p
Gift Republic Grow Me: Mini Herb and Vegetable Growing Kits: This was one of the main reasons I decided to pick up this box! I tried growing basil last year, and although I ended up with some it wasn't too successful. I used this little kit over the weekend and its currently sitting on my window. Its verrrry small but should still hopefully work. I wish the instructions were a little more detailed though for those of us with black thumbs haha.
BAGGU® Market Shopping Bag: Living in the city without a car, I'm always using these little reusable bags! They especially come in handy for grocery shopping. The design I got kinda looks like its from a 90's sitcom, but it still gets the job done. lol
Birchbox Shopping List: This is a cute shopping list and I love that it has lines, unlike post notepads I have. I really wish it came with magnets so I could put it on the fridge though. I might buy some and add it to the back.
Core Bamboo Radish Print Utility Knife: This is an adorable little knife! (I never though I'd use "adorable" and "knife" in the same sentence but there ya go). I used it to peel some ginger the other day, and it was very easy because of the small size and sharpness of the knife.
TOCCA Crema da Mano Luxe: This cream was a huge surprise, because I was expecting a tiny little sample size hand cream. Instead, this cream is FULL size and the packaging is so gorgeous! The scent I received was "Cleopatra" (grapefruit & cucumber), which is light and refreshing. The cream itself works well enough. Its not super moisturizing, but it gets the job done.
LAFCO Little Luxuries Candle Tin: The scent I got was "Mint", which is awesome since I'm totally on a mint kick. The tin is really pretty and has that apothecary look to it. It has a little indentation on the top, which happens to fit the matches that also came in the box perfectly (guessing its supposed to). I don't use matches, though…always seem to light one then freak out that my fingers are going to burn off so I blow it out. haha. The scent fills small areas very nicely but isn't too overpowering.
L'OCCITANE La Collection de Grasse: I love the scent I got ("Jasmine & Bergamote") since I'm a huge jasmine fan and most of my perfumes include jasmine. However, I'm super disappointed that this isn't a spray top, especially since its huge a large sample size. *sigh*
I hope they keep releasing these limited edition Home boxes because I'm loving them!