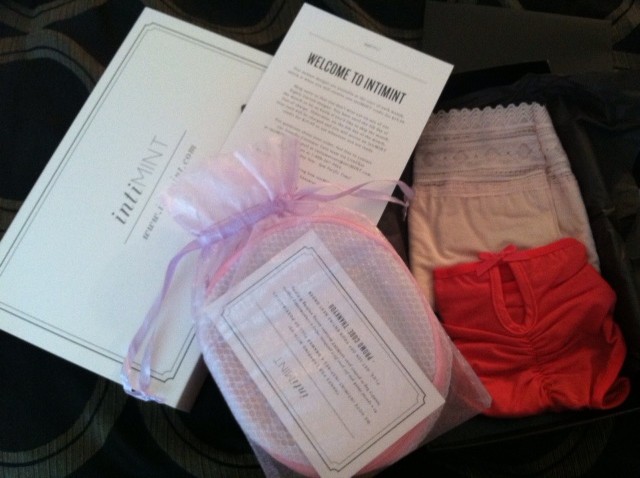 Last week I posted about the new BeachMint company called intiMint, and I just received my order yesterday so I thought I'd review it! Yes, this will be a review on underwear. 😛
At first I was a little annoyed because I hadn't received a shipping notice yet. Upon contacting them, they explained that they had an influx of orders from the launch and that was delaying it a bit but that they were upgrading shipments to 2 days to make up for it. I was super happy to find my package the next day! The first thing I noticed about intiMINT was how pretty the packaging was. The picture above doesn't do much justice because of the lighting, but your products come in a nice sturdy box and are wrapped in tissue paper. They also included a free laundry bag with every first purchase to wash your products in…how sweet is that? In addition, they included a coupon code for 10% off your next order.
The undies themselves were incredibly soft and fit really well. I picked up the Dolce Vita in the pale pink color and the Runched Back Panty in the coral color. The lace on the Dolce Vita is incredible and much softer and silkier than the lace on other undergarments that I have from either Victoria's Secret or Aerie. The rest of the material is also nicer and softer than my other undies are…you can tell that they're made out of good quality material. As for sizing, I went with a Small even though I usually buy undies in a Medium. They fit perfectly, so if you're purchasing from intiMINT you might want to size down.
All in all, I'm really loving intiMINT so far and I cannot wait to see the July collection! On my mental wishlist are the Lace Trim Babydoll and the Wrap Me Up Robe!