Yes, another new "mint" company! When I first heard about it through Facebook I was like "really? another one?". But honestly I think I may really like this one, and I've already made my first purchase (the launch was yesterday).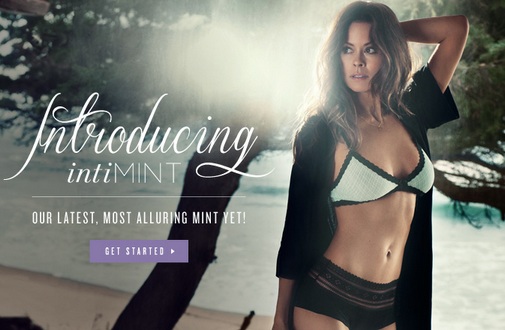 intiMINT (and how adorable is that name?) is an intimate apparel collection designed by Brooke Burke of Dancing With The Stars fame. Her collection so far has undies, bras, lounge wear, sleepwear, and robes. Its the cheapest of the Beachmint companies I believe, at $19.99 per month for 1 credit. Well…Homemint is $9.99 per month, but that membership only gives you a "discount" on their (very expensive) products, which is different than how the other Beachmint companies work…I'm not a big fan of that model. But with intiMINT, your $19.99/mo credit will actually buy you something without you having to put out extra money. Of course, not all products are worth 1 credit. The nicer bras and clothing items will run you 2-3 credits, but I love how 1 credit will at least get you something! I'm a big fan of soft undergarments and lounge wear. I picked up 2 undies yesterday for 1 credit (with a 10% off discount) and I'm really excited to receive them to see what the quality is like! I'm totally lusting after this adorable romper…that may be my next purchase 😛
There's not a lot of products up now since it just launched, but I'm really looking forward to seeing what they come up with in the coming months! I've decided that I'll alternate this with StyleMint (skipping one or the other every other month) so that I'm not paying for both subscriptions every month. To be honest, I may be more interested in intiMint than StyleMint, considering I haven't been liking a lot of their newer releases.
What are your thoughts? Are you interested in intiMINT reviews once I receive products…or would you find reviews on undergarments kind of weird? haha