Hi guys! I've had a draft of my updated skincare routine in the works for awhile now, so figured it was finally time to post it despite the fact that I've recently stopped using quite a few of the products I was going to review so I've removed those portions (and this post feels too long anyhow).
I have a condition called seborrheic dermatitis (mainly on my scalp and stomach but also a little on my face) and its been particularly bad this season for some reason (it worsens in the warmer months). Because of that I've dropped a lot of the products I was using…temporarily maybe, I'm not sure. I've also completely stopped using foundation for the most part, which is kind of nuts since I've been wearing some form of foundation daily since high school. Every time I would put it on (didn't matter if it was a BB Cream or foundation), my troublesome areas under and over my mouth and around my nose would turn into a flaky disaster by noon. It still flakes a little but without foundation I can at least reapply moisturizer and its not quite as gross looking.
My skin barrier is kinda shot in those aforementioned places where the seb derm flairs up, so I'm working on repairing that and just being very very gentle with the products I use, but here's what made the cut! If you have very sensitive skin, these products should work well for you too as they're all pretty mild.
Cleanser
I use either the Vanicream Gentle Skin Cleanser or PURITO Defence Barrier Ph Cleanser in the evenings (one is in the shower and the other on the sink so I alternate). Both are extremely gentle. In addition, I'll use an oil cleaner or balm to remove eye makeup/concealer (right now its the Clinique Take the Day Off balm). In the morning, I've just been splashing with water or, if I have to, I'll use the PURITO cleanser which is a little more gentle than the Vanicream.
Hydrating Serum
In the evenings after cleansing, I use the Peach & Lily Glass Skin Refining Serum. Its one of the non-basic skincare products I've kept in my routine since its very gentle and I haven't had any adverse reactions to it. Its from a Korean beauty brand and contains peptides, niacinimide, and hyaluronic acid. Its a thin clear gel that goes on smoothly. Speaking of the consistently, its a general skincare "rule" to apply products in order of thin to thick (as the thinner products penerate easier)…so more watery serums are usually first, followed by heavier creams.
Moisturizers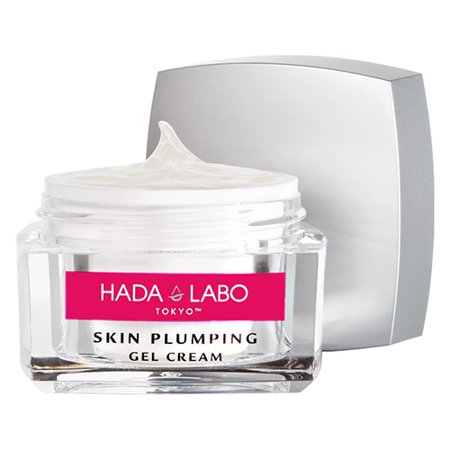 I use a couple different moisturizers. Both morning and evening I use the HADA LABO Skin Plumping Gel Cream (after serum in the evening, and just right after cleansing in the morning). This is a lightweight gel that contains humectant ingredients like hyaluronic acid and glycerin which pulls moisture from the skin to hydrate, which is why it needs to be applied to wet skin. If my skin has dried out a bit too much I'll spray the Avene Thermal Spring Water to re-wet it (which is also very refreshing to use after a workout or just in general throughout the summer!). I'll follow this up with the CeraVe Moisturizing Cream in the evening, as its important to "seal in" lighter humectant products like this with a more moisturizing layer to prevent evaporation. In the morning I usually don't use the CeraVe cream since I put on SPF overtop and it just feels like too many layers.
Occlusive
In the areas under/above my mouth and around my nose, which are the most damaged areas prone to flakiness, I'll add a bit of a more occlusive moisturizer. I loveee the CeraVe Healing Ointment and have a travel size one at work to reapply it throughout the day. Its basically just petroleum with some added ceremides and hyaluronic acid. Despite it being very thick it has never caused a breakout. I wouldn't recommend applying this all over your face as it is extremely thick, but it works great for problem areas and also as a lip balm since its basically just petroleum. I imagine this would feel really nice on sunburn or chapped skin as well.
Sunscreen
I use the EltaMD UV Clear SPF 46 every day as the last step in the AM. Its a mix of mineral and chemical sunscreen and also contains niacinimide. Its very blend-able and not thick and goopy, though it does go on a bit greasy/shiny but nothing a little powder can't fix! I reapply this a little bit on my upper lip if I'm going to head out in the sun later in the day because I've been getting laser hair removal there so its very susceptible to sun damage. If I'm running outside or going to be in direct sun for awhile, like on the beach, I'll wear the EltaMD SPF 50 UV Sport which is water resistant and also a hat of some sort.
So that's it! It looks like a lot I guess, but I've dropped my morning Vitamin C Serum (Mad Hippie), Toner (Indie Lee CoQ10 Toner), Exfoliant (Stratia Soft Touch AHA), and any kind of supplemental face mask. I'd love to reincorporate some of those again (especially the toner and exfoliant which are favs of mine), but I'm giving me skin some time to heal. For makeup, I basically just use all the same stuff minus foundation…concealer (under my eyes and on my nose), blush, mascara, and eyebrow pencil.