Hello all! It was a gorgeous weekend here in Philly, so the bf and I went out for some shopping. The shopping bug always seems to hit me when the season changes (October and March).
Here's what I picked up: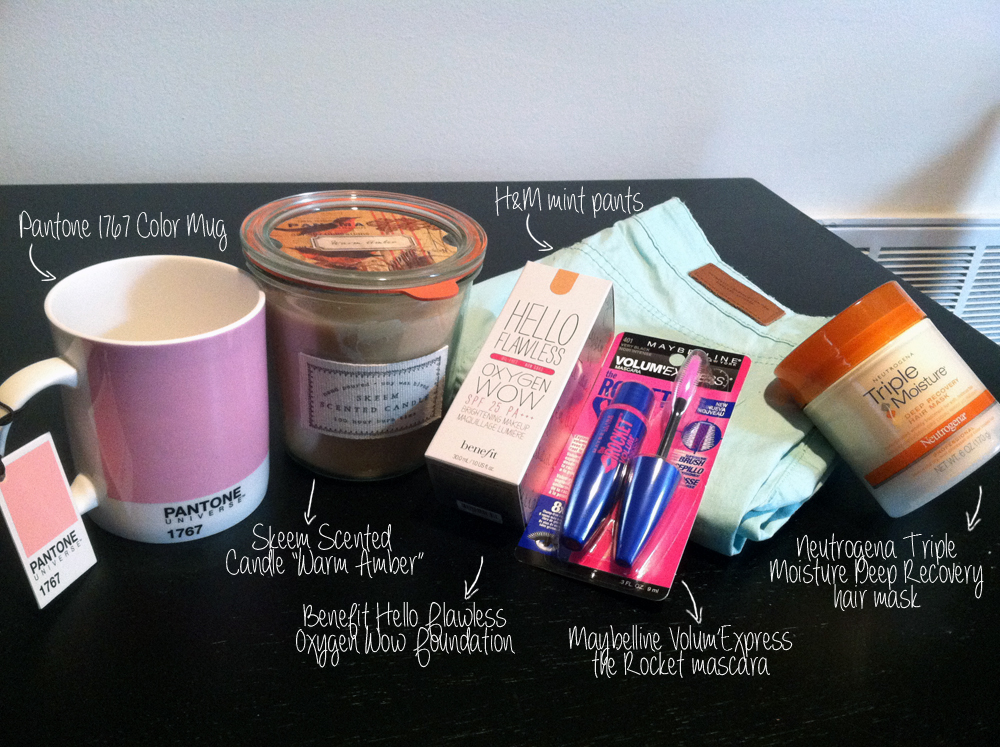 First stop was a home goods shop in the city called Open House. I had some money left over from a gift card I received for Christmas, so I wanted to use that up. I picked up a gorgeous candle by Skeem in the scent "warm amber" (smells so nice!) and a Pantone mug in a baby pink color. Next was H&M, because I got an email that they were having a $7 pants sale. Apparently, that was only referring to one specific pair of pants, though. Talk about misleading advertising! I had been wanting mint colored pants forever though, so I ended up picking up a pair anyway. Can't wait to incorporate it into my wardrobe!
Next was a quick stop at Sephora to grab some more of the Benefit Hello Flawless Oxygen Wow Foundation. I'm on my third bottle now of this foundation and its still my fav! Last stop was Rite Aid. I'd heard some great things about the Maybelline Volum'Express The Rocket mascara (can they make these names any longer?) so I picked that up along with a Neutrogena Conditioning mask that I've used before and love.
How was your weekend? Do you also get the shopping bug when the weather gets warmer?